WHAT'S NASALCOM?
NASALCOM is a new fully online service where you can enjoy all NASAL products without installation, directly from your web browser.
In a simple and intuitive desktop you will have access to all the functionalities of the service, including our desktop applications for 3D visualization of the nostrils and middle ear (3D Nasal Vista 2.0 and 3D Nasal Vista Temporal), our respiratory airflow study system (NASAL~FLOW®) and the NASAL Virtual Campus.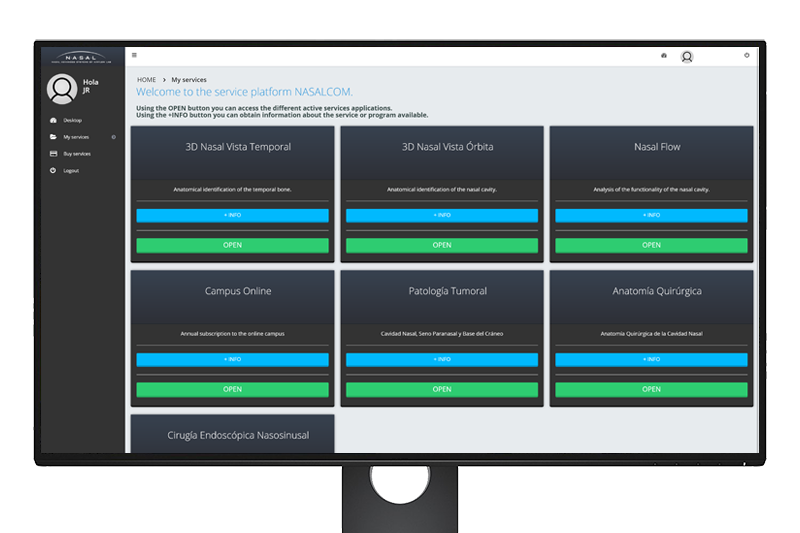 PREMIUM SUBSCRIPTION
NASALCOM has a Premium Subscription that includes:
1 year online subscription to 3D Nasal Vista 2.0 and 3D Nasal Vista Temporal as well as the possibility of downloading these programs for Windows and Mac.
1 credit for the request of a NASAL~FLOW® respiratory airflow study (valued at 150€) with which you can also perform a virtual surgical simulation.
1 year of access to the NASAL Virtual Campus where you will have a new course every 4 months among which are already the courses: Endoscopic approach to the middle ear, juvenile Angiofibroma, Ethmoid Adenocarcinoma, Tolosa-Hunt Syndrome and many more.
HOW TO REGISTER AT NASALCOM?
Registering at NASALCOM is very easy. Access NASALCOM to begin the registration process.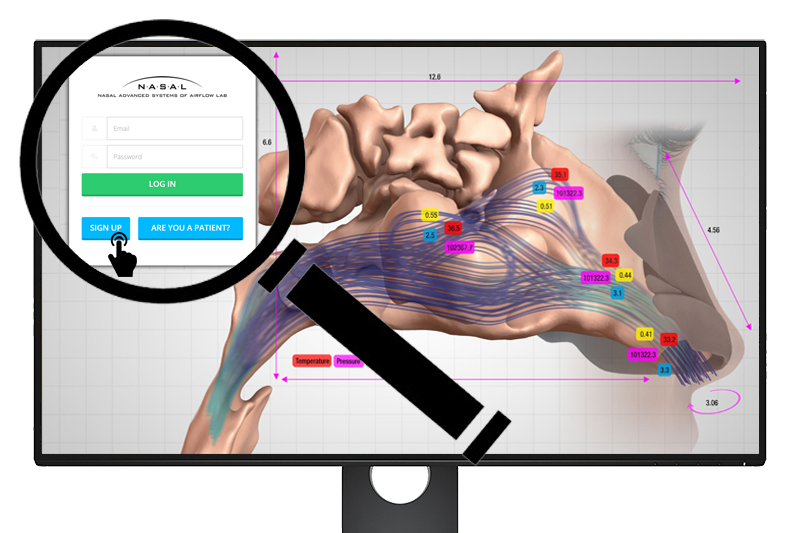 1. On the NASALCOM home screen, click on the SIGN UP button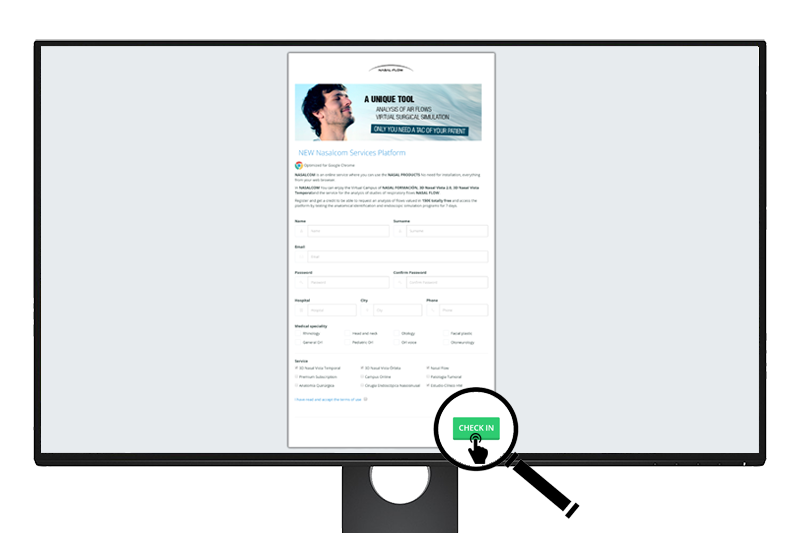 2. Fill in the form and click on the CHECK IN button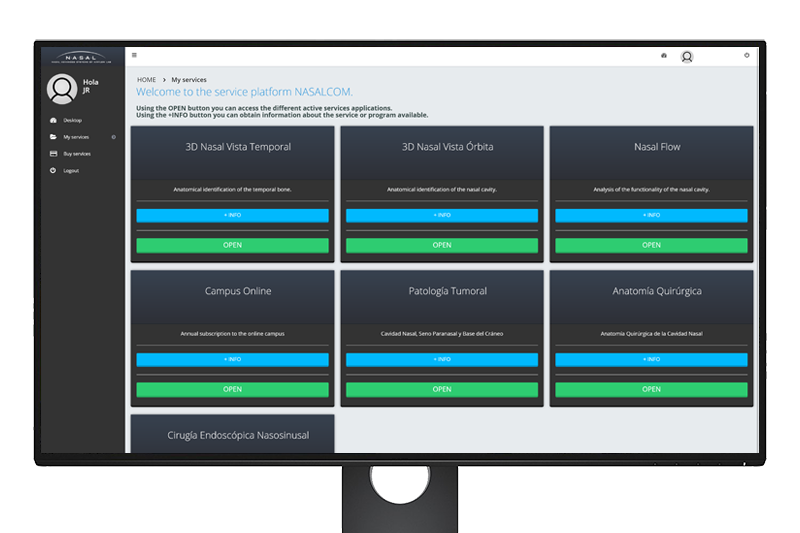 3. You will receive an email with the confirmation of your registration and you will be able to access NASALCOM
ARE YOU A PATIENT?
If you are a PATIENT and want to acquire credits so that your doctor can perform your respiratory airflow study, follow the instructions below.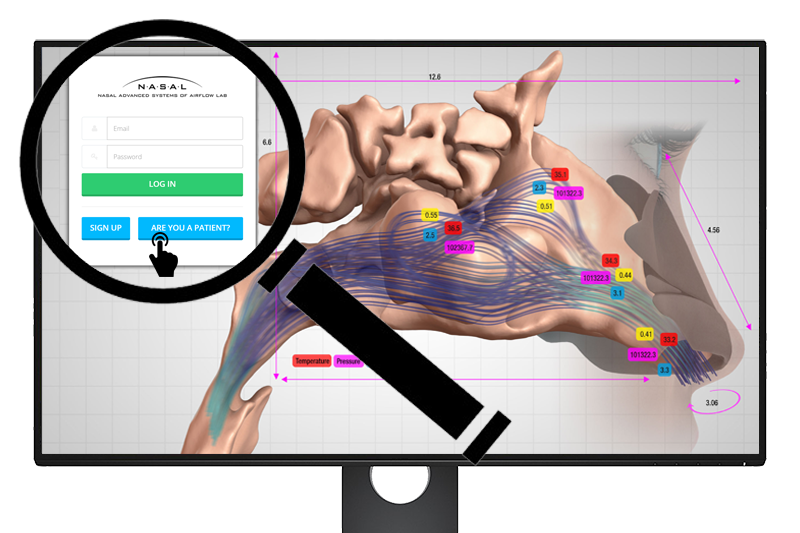 1. On the NASALCOM home screen click on the button, ARE YOU A PATIENT?. Before starting to fill out the form, the doctor must indicate his doctor code number, required to complete the credit purchase process.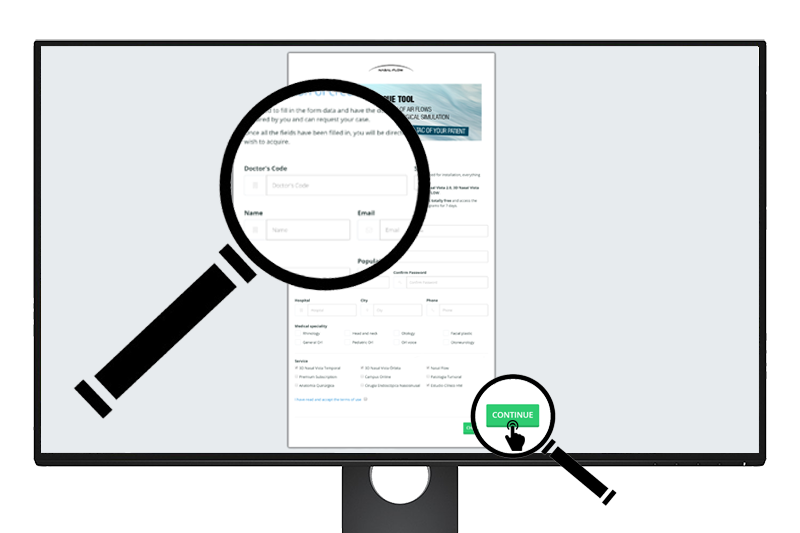 2. Fill in all the fields of the form indicating the DOCTOR CODE and number of credits. Once the form is complete, accept the terms of use and click on the CONTINUE button to access the credit card payment gateway.
Once the credits payment has been completed, the doctor will receive a notification and will proceed with the respiratory airflow study.